They Can Hack It
Lander College for Women hosts its first-ever "Hackathon"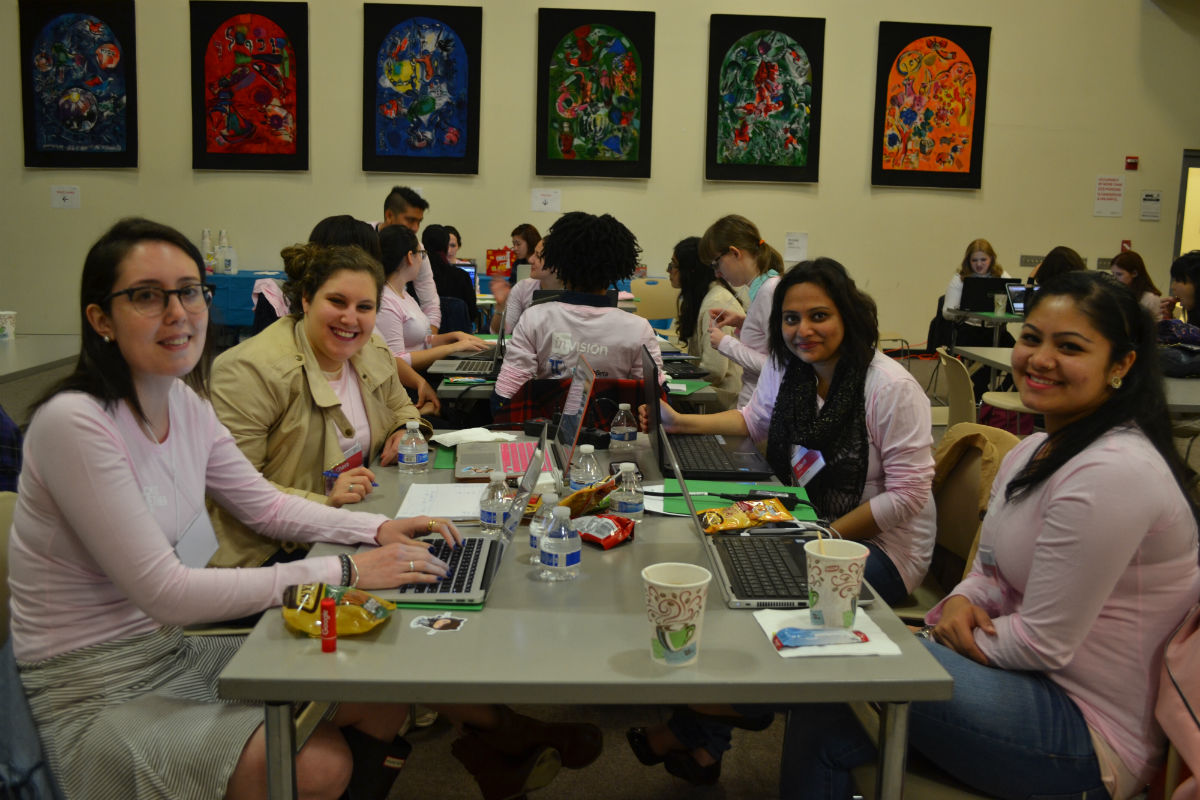 On rare occasions, not only is hacking legal, it's encouraged.
So it was when Lander College for Women-The Anna Ruth and Mark Hasten School (LCW) hosted its first-ever Hackathon, in which college students participated in a competition to develop collaborative software projects.
Women from eight tristate colleges—Ramapo College, Montclair State University, Baruch College, Hunter College, Queens College, Brooklyn College, Lander College of Arts & Sciences-Flatbush and LCW—descended on the campus for a day of "learning, excitement and coding." During the 12-hour event, team members (teams were not divided by schools) collaborated to create some form of technology that interested them. In addition to the competition, the participants had the opportunity to attend technology workshops and lectures throughout the day.
At the end of the day the teams performed demos of their innovations to all the attendees, and three judges— Marc Toledano, director of e-commerce and software integration at Quantum; Gloria Kallus, senior project manager at Simparel; and Dr. Alan Kadish, president and CEO of the Touro College & University System—huddled together to determine a winner using the following criteria:
Impact—Does the project have real social impact? Can it change the world, or at least help someone in the community? Does the hack solve a real problem?
Innovation—Is the solution novel? Did the team solve their problem in a creative or never-before-seen way?
Technical Achievement—Did they solve a difficult technical problem? Did they get a working demo completed within the allotted time?
Scalability—Is the project conducive to work at scale? Could the project succeed if it were to be built up for widespread use? Does the project have potential to succeed in the outside world?
The winning team developed a program to convert recorded lecture notes for students with visual impairments. Other "hacks" included a social food-sharing app to help those in poverty find leftover food; a mobile charity tracker; a voice-controlled game to help immigrants prepare for the U.S. citizenship exam; and facial-recognition software to provide authorization for someone working on another's behalf.
"We wanted to bring together women in computer science—an underrepresented group—and to empower females," according to Bracha Bart, who, along with Avigayil Fohrman, organized the event. Both students graduated last week at the LCW commencement exercises. "I was so impressed by the hackers, many of whom are beginners, who turned out some pretty interesting stuff."