Meet Raya Gilan, LCW '15
Multi-talented student at Lander College for Women has slew of unconventional hobbies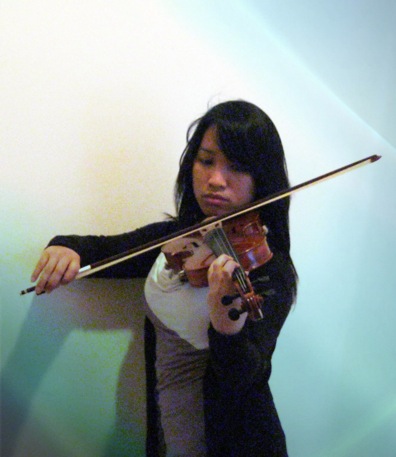 A native of the Philippines, Raya Gilan, a second-year student at Lander College for Women-The Anna Ruth and Mark Hasten School in Manhattan, has a wide range of talents and several unconventional hobbies. She is a blue belt in Tae Kwon Do, races in swim meets, plays the violin, rides horses competitively—she owns the horse—and has gone bungee jumping 11 times.
A native of the Philippines, Raya Gilan isn't your typical student in a small Jewish college in Manhattan. Then again, the more you hear her story the more you realize that almost nothing about her is typical.
A second-year graphic-design major at Lander College for Women-The Anna Ruth and Mark Hasten School (LCW), Raya is the daughter of an Israeli businessman and a Filipino woman who converted to Judaism. Raya's many interests—from bungee jumping to badminton—aren't your average 21-year-old's hobbies.
"I'm an only child, so my parents gave me every opportunity to explore my talents," Raya said. "And even though it meant that my days were often jam-packed, I took full advantage of their generosity."
Raya's parents met when her father was visiting the Philippines on business. After marrying, they settled in Manila's small Orthodox Jewish community. At home, the trio spoke English, French and Filipino.
"Whenever someone asks me what my first language is, I tell them 'I don't know,' because I spoke all three languages simultaneously," she said. Later, she became proficient in Hebrew and Spanish, and learned Japanese from "a friend who got me interested in a Japanese TV series."
Until 10th grade, Raya attended a French school in Manila. Her father thought she should be exposed to more Jewish learning, so she enrolled in a Bais Yaakov in France for one year, followed by Beth Jacob High School in Denver, Colorado for her junior and senior years. Though still somewhat homesick, Raya was used to being far away from her family; she had spent several summers at an American camp, which was where she lost her foreign accent. Raya began attending LCW, (which came recommended by her Denver high school principal) after a year of seminary in Israel.
This brings us to Raya's hobbies, of which there are many. She has a blue belt in Tae Kwon Do, plays badminton competitively ("it's surprisingly more strenuous than tennis," she notes) and races in swim meets. She's played the violin since she was seven and once performed for the Israeli ambassador to the Philippines.
Raya also has what she calls "fun" activities. She goes dirt biking and wall climbing, and plays laser tag, paintball and a myriad of sports. She has bungee jumped 11 times, each from a different height. Not including her first jump, Raya said she was scared only the time she realized, quite late in the process, that instead of being able to take the plunge when she was ready as she was used to doing, she would be, essentially, dropped.
And then there is the horse.
Horse riding is somewhat common in Manila, so from a young age Raya had practiced showjumping--riding a horse as it jumps over obstacles. When Raya turned nine, her father decided to buy her a thoroughbred show horse, which she named Primrose.
She's had three riding coaches, one an internationally recognized riding competitor, and though she's dabbled in several kinds of equestrian contests, Raya has mostly competed in dressage ("like ballet for horses," she explains). Primrose, who is the same age as Raya, 21, is stabled in a horse farm in Manila and Raya tries to visit her whenever she makes the 17-hour trip home.
The spark Raya adds to LCW is not lost on the administration.
"Raya's vivacious personality, her abiding commitment to personal growth and an overwhelming desire to live life to the fullest is contagious and adds so much to our college community," said Dr. David Luchins, LCW's founding dean.
Marian Stoltz-Loike, Ph.D., dean of LCW and Touro's vice president of online education, agreed. "The fact that she's involved in so many of our extracurricular activities—dance, choir, drama society—helps make LCW a more exciting place to learn."
Adjusting to life at LCW hasn't been too difficult for her. She's lived in foreign countries away from her family for so long that by now it's practically old hat. Oddly enough, she doesn't stand out all that much at her New York-based Jewish college; Raya is one of five seminary graduates with East Asian roots at LCW.
"Of all the schools I've been to outside of Manila, this is the first one that had some of 'my people,' " she laughed. "Asian pride!" Her classmates still ask about her origins, but she understands that, given her unique background, it comes with the territory.
After graduation Raya says she'd like to pursue a career in graphic design, either in the U.S. or Israel, and doesn't expect to return to the Philippines on a permanent basis.
As for her next extra-curricular activity, she'd like to give skydiving a shot.
"Hopefully one day," she said. "There is still so much I want to do."