LCW Celebrates Class of 2017 at Graduation Banquet
Before Commencement, seniors bid farewell to LCW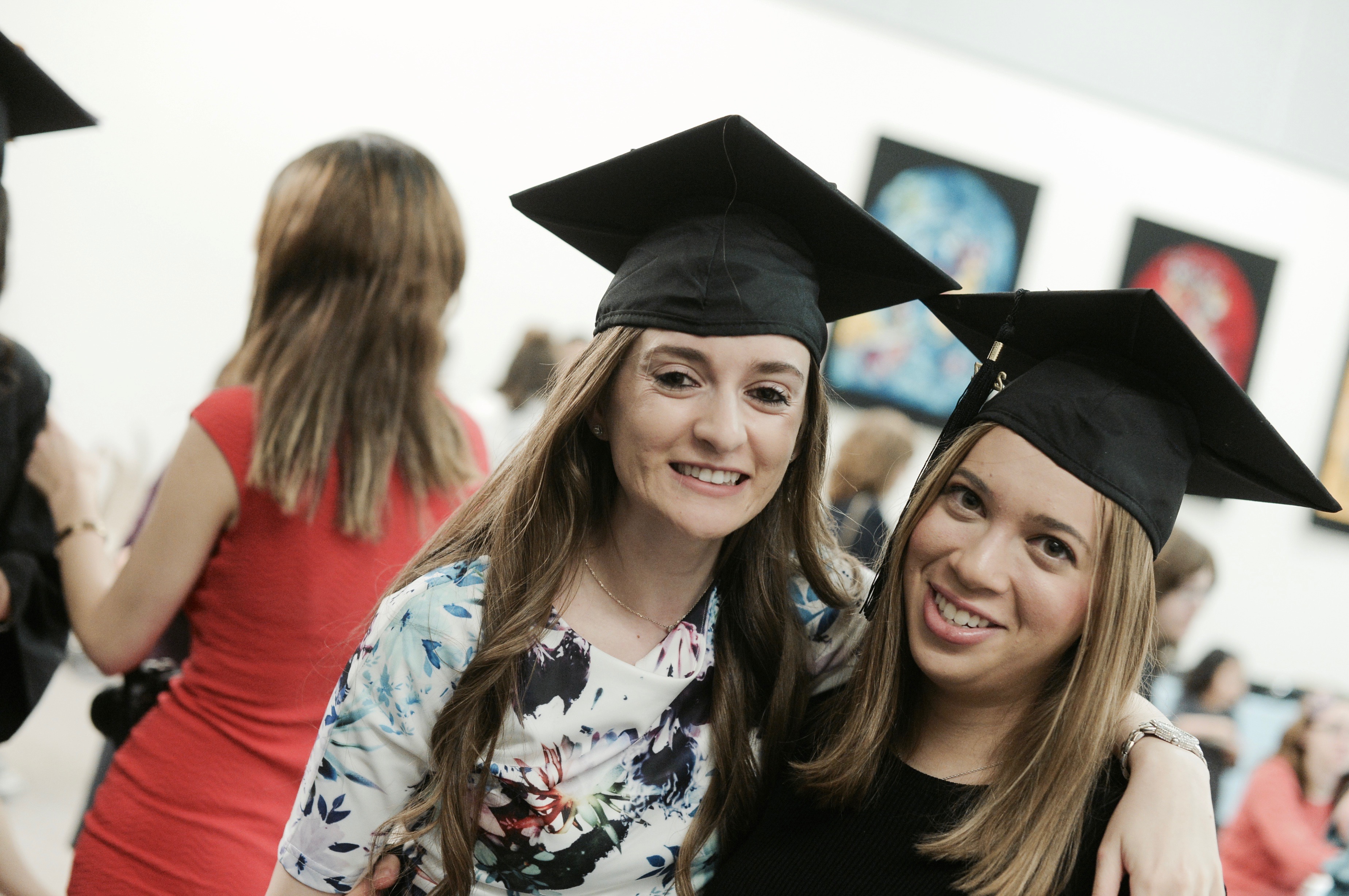 On the morning of commencement, graduates walked into Lander College for Women—The Anna Ruth and Mark Hasten School (LCW) one last time as students for a pre-graduation reception held in their honor.
Families, friends, and faculty gathered to celebrate over a brunch buffet and awards ceremony, before the senior class donned caps and gowns for the walk over to Lincoln Center and the graduation ceremony.
In her welcoming remarks, Dean Marian Stoltz-Loike shared a dvar torah about the upcoming Parshat Naso, which enumerates each priest's sacrificial offerings in great detail. Although the text appears redundant, commentaries note that there are no unnecessary verses in the Torah, and each statement bears significance. In this case, the repetition highlights the importance of each individual.
"On graduation day, this transmits a powerful message," she said. "At LCW, every student becomes someone we notice. We work hard to look at each of our students, celebrate their achievements, and help them to not only think about what their dreams are, but to give them the tools and abilities to pursue those dreams. Today we applaud the graduates for their individual and collected achievements."
Many students are entering the professional world. Valedictorian Meira Goldberg, a computer science major, will be working at PGIM Fixed Income as a software developer. Miri Frei, a literature and political science major, will be working at the Children's Law Center while applying to law schools. Marketing and management student Shira Epstein will be working for NCSY Alumni at the Orthodox Union.
Other students will be taking the next step in their academic journey. Political science major Rivka Arno will be attending Columbia Law School. Recipient of the Dr. Abraham S. Luchins Memorial Prize in Psychology, Orly Gross, will continue her studies at Hofstra University in a clinical school psychology program and recipient of the Perel Rena Millman Memorial Award in Biology, Mindy Kresch, is in the process of applying to medical school. Pre-nursing Judaic studies major Esther Berger, who received the Hoenig Family Judaic Studies Award, will start nursing school at Fairleigh Dickinson University in August. Some students are continuing on within the Touro University System: Biology major Brenda Solomon will pursue a doctorate in physical therapy at Touro's School of Health Sciences; Miriam Ivry will begin classes in July at Touro College of Dental Medicine; and Rebecca Lazarus will take classes at Touro's Graduate School of Education.
"I feel elated and proud to have completed four years of college and to have reached this milestone," said digital multimedia design major Talia Ovadia-Laniado. "I know I will miss many things about LCW and the way it has come to feel like home, but I feel prepared to move onto the next stage, confident that my professors gave me the tools and knowledge I need to succeed as a designer."
Congratulations to the graduates and awardees!
Valedictorian: Meira Goldberg
Lander Family Memorial Award: Yael Lazarus
Hilda Kadish Memorial Award: Brenda Salamon
Orthodox Union Women's Branch Award: Temima Furst
Dean Marian Stoltz-Loike Service Award: Tehila Aryeh & Shaina Hirschman
Ira Medjuck Memorial Award: Rena Devora Winick & Shoshana Wolf
Academic Excellence Award: Talya Ovadia-Laniado & Talia Weintraub
Service Award: Shoshana Dunner & Este Stollman
Departmental Awards:
Award for Excellence in Digital Multimedia Design: Marina Zloczower Zukin
Dr. Abraham S. Luchins Memorial Prize in Psychology: Orly Gross & Atara Stern
Award for Excellence in English: Susan Agishtein
Hoenig Family Judaic Studies Award: Esther Berger
Award for Excellence in Management/Marketing: Shira Epstein
Perel Rena Millman Memorial Award in Biology: Mindy Kresch
Award for Excellence in Speech and Communications: Debra Zinn
Vivian and Dr. David Luchins Political Science Award: Faiga Fuchs