Designing Woman
Zehava Blechner Pasternak Goes from Touro Grad to Magazine Curator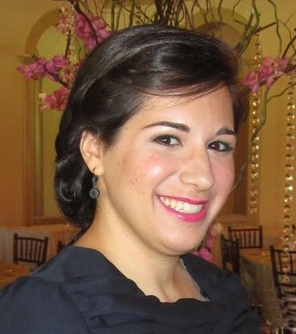 Between the first day a publication gets mapped out and the final hours before an issue goes to print, the design department encounters more obstacles than most tri-athletes. Just ask Zehava Blechner Pasternak, who graduated from Touro's Lander College for Women in 2008 with a BS in Desktop Publishing and Web Design, and in four short years has become a full-time Designer at Forbes magazine.
"Our biggest struggle, because we work with other teams, is that we'll get a project, and everyone thinks, "Oh, we'll move this around and do this, and it should only take five minutes," says the Boston native who currently lives in Queens with her husband. "But they don't realize the process we take with everything. There are reasons we pick certain colors or certain fonts. There's a reason we do everything, so it's frustrating when people think, "Oh, well, anyone can do that, right? Why does it take so long? We try and explain, 'Well, the reason we picked that color is because you want to convey this message,' and they're like, 'Oh, well we never thought of that.' So it's nice to open people up to [the fact] that there's a purpose to everything we do."
And Pasternak should be well-equipped to articulate that intent. She's known for many years that design was her desired creative field, and honed her chops after graduating Touro with internships at Quick and Simple magazine, a stint as a Forbes junior designer and freelancing work for various Hearst titles. "I always knew I wanted to do something with design," she recalls. "I'm not an artist. I won't pick up a pen and paper and draw something. I was always into color theory and playing around with arts and crafts in camp. I always made my own birthday cards and things like that. I was interested in a lot of things, but I knew the path I wanted to take, and I knew I wanted to do something within design."
In fact, by 8th grade, Pasternak was overseeing the layout for her school yearbook, only further affirming to herself that she'd gotten the bug. By the time she'd arrived at Touro, "it really landed in my lap," she says, referring to both the in-classroom opportunities and aforementioned extracurricular experience. And once she saw her name in print, that's when Pasternak truly felt validated and gained a sense of confidence. "Because I was an intern [at Quick & Simple], I wasn't on the masthead," she remembers. "But when I went on to the freelance job at Hearst, I had my name in there, and I remember walking into Borders and picking up the issue we just put out and seeing my name in the masthead, and I was so thankful. I feel like most people wouldn't have had that opportunity after having a few years of experience, so that was kind of cool."
Thus far in her budding career, Pasternak has been fortunate enough to find employment doing what she loves and gaining credibility in her industry, even if it's not (nor is it ever) completely smooth sailing. "You get creative blocks sometimes, even now." she admits. "But that's the nice thing about this field, is that we're constantly working with one another and going to lectures and reading up on different things and going to museums. People have different levels. I'm five years out of school and my boss is 20 years out of school, but I'm still teaching him things just like he's teaching me things, and we're all growing together. And because of the changes in technology, we're all learning new things."
As her art and profession continue to intertwine and evolve, Pasternak advocates for compromise, patience and collaboration above all else. Even if she's only half a decade removed from her studies at Touro, it's that kind of humility and perspective that's in large part the root of her success. "Don't get discouraged about being so set on your one vision," she advises. "You have to keep an open mind and ground yourself. If it's just not working, go back to it, take a step back. Be open to other people's opinions, because you sometimes end up in a bubble, and it takes another person to open it up again."
Zehava Blechner Pasternak went to Bais Yaakov of Boston HS and Shoshanim Seminary in Israel before attending Lander College for Women.