Touro Grad Spends Summer Steeped in Political Philosophy, Public Policy
Internship at Hudson Institute Helps Budding Lawyer Set the Stage for Career in National Security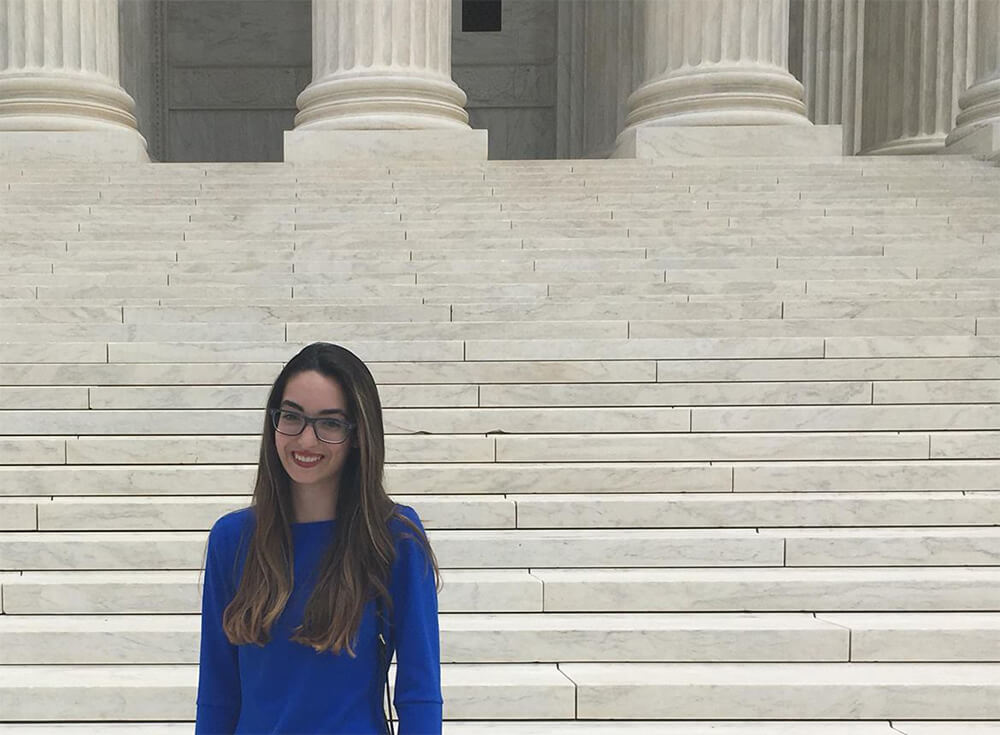 Touro caught up with Lander College for Women-The Anna Ruth and Mark Hasten School (LCW) class of 2017 grad, Rena Winick, to discuss her summer internship and law career goals.
You are spending your summer doing a Fellowship with the Hudson Institute. Can you explain what the Institute does and your role?
I am a Fellow at the Hudson Institute Political Studies Program, which aims to provide future leaders in politics, government and academia a solid educational foundation in both political philosophy and public policy. In the first couple of weeks of the program, I have argued the amicus brief from the Federal Government in the D.C. v Heller Supreme Court case, acted as Chancellor of Italy in a European Economic Crisis Simulation and have been assigned the role of President Abraham Lincoln during a Civil War Simulation, which will take place at the Gettysburg Battlefield. I have also had the honor of listening to words of wisdom from Supreme Court Justice Neil Gorsuch, Dr. Leon Kass and Dr. Harvey Mansfield, and before the program is over, I will hear from Senator Tom Cotton and General Michael Hayden among others.
Congrats on your scholarship to Georgetown Law! What type of law are you interested in practicing when you complete your degree--and why?
Thank you so much! When I finish my J.D. at Georgetown Law, I hope to practice National Security Law, specifically working on terror finance litigation for the Federal Government. I first became interested in the world of National Security during Professor Mond's course "Politics of the Middle East", and then began to seriously consider it as a viable career path during my senior year after taking "Terrorism and Insurgency" with Professor Zucker. I have always been drawn to public service, and once I found my passion in National Security, and in particular military theory, I decided that law school would be the best way for me to translate my passion into a career.
What did you study at Touro and how did that help you prepare for law school?
I was a Political Science student during my time at Touro. All of the courses I took taught me not only substantive knowledge that will be useful during law school (such as International Law), but also reading, writing and analytical skills which will help me succeed no matter the subject matter. Aside from the course material, I really appreciated the small class size and the willingness of my professors to consider, from an intellectual perspective, many different arguments and opinions. The close academic relationships formed between the students and faculty allowed for an open and honest intellectual environment in the classroom, which is rare on most college campuses today.
Any tips for Touro students interested in a pursuing a legal career?
I would advise them to get tangible real-world experience before beginning law school, either through internships or during a gap year. Law permeates just about every discipline, and hands on experience in any industry will help transform classroom knowledge into applicable and practical skills. I took a gap year where I spent time working in the San Diego Teen Court Diversion Program, working as a Residential Real Estate Agent, doing PR for a documentary film and studying Arabic. These vastly different experiences helped me put my academic learnings into practice. The experiences also helped me understand my strengths, weaknesses and passions in a way that will exponentially enrich my law school experience.