Touro Celebrates 600+ Graduates at 48th Annual Commencement
Lander College Students Receive Awards, Words of Inspiration, and Messages for Life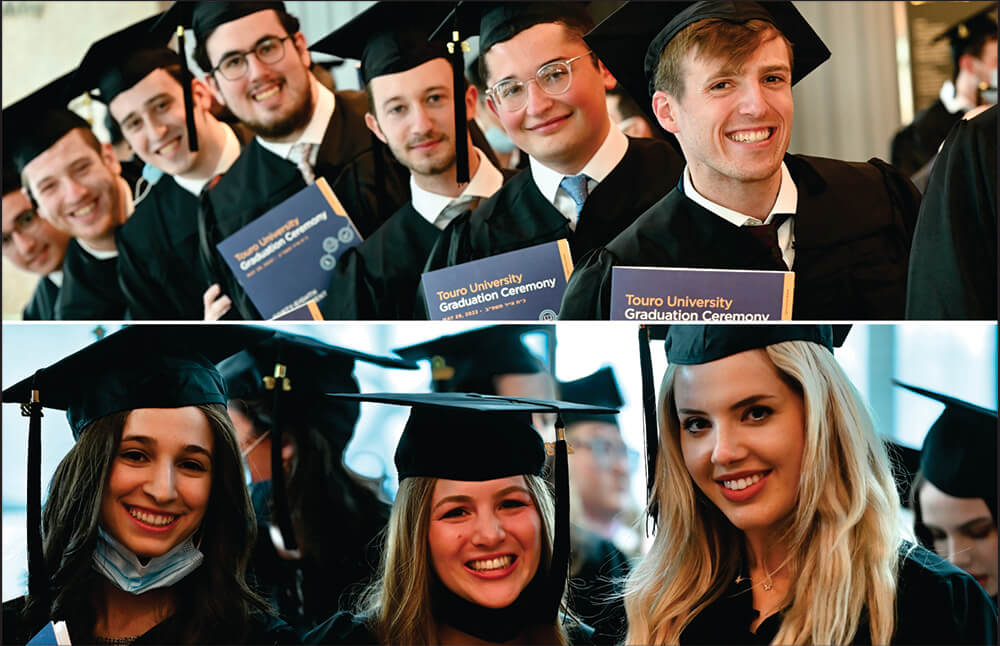 Students celebrate at 2022 Lander College commencement
Touro's Lander Colleges graduated more than 600 students last Sunday at the 48th Annual Commencement Exercises, held at Alice Tully Hall in Lincoln Center. Families, friends and faculty came out to honor the graduates in the first in-person ceremony in three years.
For a group of students who spent a good part of their college years in lockdown and on Zoom, emotions ran high as they celebrated their collective achievements and shared the crowning moment of their academic careers.
"Today, as we honor the culmination of your hard work, and your commitment to fulfilling your dreams under the most difficult of circumstances, I am confident that you will continue to transform your aspirations into realities," said Dr. Alan Kadish, Touro President. "At Touro, you have been part of a tight-knit community brought together by our shared values, and by our devotion to Torah and Klal Yisrael. We have challenged you to think deeply, speak clearly and continually grow. We think of ourselves as leaders in what we are trying to accomplish. But the best leaders don't make followers—they make new leaders. And this is what we are expecting of you."
Numerous awards were presented for community service as well as high academic achievement in math, accounting, biology, art, education, finance, psychology, political science and more.
Dr. Stanley Boylan, Vice President of Undergraduate Education and Dean of Faculties, received an honorary degree and served as Keynote Speaker. "You are entering into a new world, which continues to evolve before our very eyes, a world in which your own ability to continue to learn and innovate will be essential," said Dr. Boylan. "As the graduating class of the Lander Colleges, hold fast onto your dreams. Just as our founding President, Dr. Bernard Lander, himself a dreamer, visualized Touro as a burgeoning academic institution to help the Jewish community master all the new skills needed to assure the continuity of Jewish life, you too can aim high and seize the great opportunities each of you will have to realize your dreams for today and for the future."
One of the valedictorians, Yisroel Fishman, shared his thoughts on greatness with his peers: "Every great person made a choice to go into a field they loved—whether it was medicine, physics, psychology or business—and each made the decision to stick by that choice and persevere. Choice is the vehicle through which all great people are born. Perseverance is the stuff of which they are made," said Yisroel.
"Each one of us here has proven ourselves and shown our ability to choose and persevere. We are already on the path toward greatness. Whether you are a finance major ready to take your place in the corporate world, a bio major heading off to learn to heal people, or a psych major preparing to help people cope, the fact that you are here in this hall today is a true testament to the consistent choice we all made to keep persevering, despite the tremendous hurdles the Class of 2022 has faced," continued Yisroel. "Each one of us has worked diligently and relentlessly, day after day, semester after semester, and year after year to finally come to this day. Mazel tov and congratulations to all of us!"