Making Shul Accessible
An Advocate for the Disabled Honored by Lincoln Square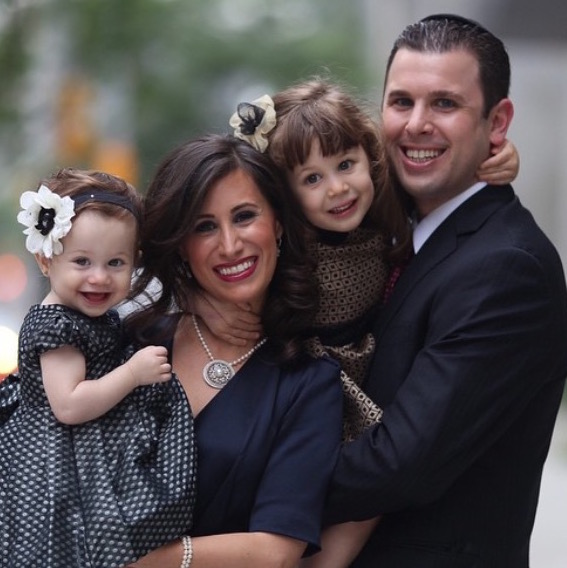 Jackie Kotler with her family. Jackie was honored for her work in making the Lincoln Square Synagogue more accessible.
A graduate of Lander College for Women—The Anna Ruth and Mark Hasten School (LCW) received the prestigious Keter Torah award from the Lincoln Square Synagogue for her work in helping the shul become more accessible and child-friendly.
A special education teacher who works privately, Jackie Kotler became involved with her shul shortly after she married her husband Jonathan. Kotler graduated from LCW in 2005 and then attended Touro's Graduate School of Education for her master's in special education.
"When Jackie married her husband Jonathan the young couples population at our synagogue was tiny," recalled Rabbi Shaul Robinson, rabbi of the Lincoln Square Synagogue. "They personally began inviting their friends, welcoming, connecting with and hosting newcomers. Thanks to them, on a regular Shabbat we have dozens of young couples and an average of 40 strollers and baby carriages every week in shul."
After she had her own children, Jackie became the youngest officer on the shul's board and began supervising the youth division. Under her leadership, the division thrived. Jackie helped spearhead new initiatives like monthly musical havdallahs, holiday programming and events, along with Shabbat groups and weekday programming. A solid youth program also offered a surefire way to increase shul attendance, with young couples bringing their family from all over the West Side to the synagogue.
"Young people will generally go where there are good youth groups," explained Jackie.
Noticing a group of special needs children, Jackie realized that she needed to increase the activities the shul could offer them.
"They needed accommodations and the shul was happy to do it," she said.
Among the many ways Jackie helped her shul become more accessible was adding an abundant variety of sensory toys and tools for children who require additional sensory input to feel comfortable in their environment. For the shul's Purim carnival, Jackie allowed families with children who had special needs to pay half price for their tickets, and to arrive a half-hour earlier than the scheduled time to have the carnival to themselves.
She also hired a special education teacher to help out during Shabbat groups.
Jackie said that her work made her sensitive to the plight of families with special needs children, noting how unintentionally they are often excluded from communal events. She also credits a life-threatening diving accident that occurred five years ago. Doctors told her that she would be paralyzed from the waist down. Against all odds, she made a full-recovery, but the recovery gave her more empathy for the disabled.
"It made me even more connected," she said about her own struggles. "I didn't want children to feel excluded or left out because of a disability."
Her work set off a chain-reaction with other parents becoming involved in making the shul more accessible for children with disabilities.
"Parents went on to create lots of other programs," Jackie explained. "There's a support group for parents of children with special needs. Any time a parent has an idea how to make the shul more accessible we work it in."
Rabbi Shaul Robinson called her "one of the greatest volunteers and lay leaders in the history of Lincoln Square Synagogue."
"She is a person of boundless commitment, energy, patience and dedication," he said.