LCW Lends a Hand for Purim Festivities
Students gather in Jerusalem to assemble Purim baskets for disadvantaged communities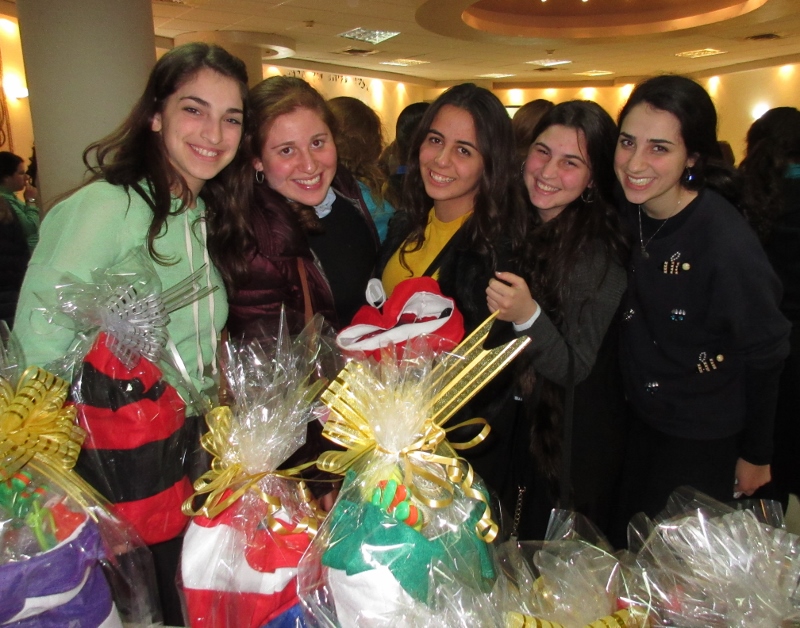 When (the Jewish month) Adar begins, we increase our joy.
Over one hundred women studying in Israel gathered together on Feb. 16, shortly before Rosh Chodesh Adar, to channel the strength of the happiest month of the Jewish year into a unique project.
For the third time, Lander College for Women – The Anna Ruth and Mark Hasten School partnered with Yad Eliezer, Israel's largest poverty relief agency, to provide families in need with personally packaged Purim baskets. The baskets were filled with a large array of Purim paraphernalia: everything from costume pieces, graggers, and an illuminated Megilah; to wine, chocolate, and a Purim comic book that tells the story of the holiday based on midrashim and gemara (rabbinic literature and Talmud).
Each basket was individually and creatively packaged. By the end of the evening, no two looked the same! In total, about 120 baskets were distributed to both victims of terror in Jerusalem and to families in need.
"You can't imagine how touched and grateful the families were when they received the packages," said Chani Twersky, a recruiter for LCW in Israel and one of the coordinators of the project. "The students were equally excited," she added, "to create something inspiring, worthwhile, and festive while making an significant contribution to the Israeli community." Organizers at Yad Eliezer were just as passionate about achieving these goals and eager to team up with LCW.
The activities —including opening remarks from Dr. Marian Stoltz-Loike, Dean of Lander College for Women; Dr. David Luchins, Founding Dean of Lander College for Women; and a special lecture given by renowned scholar, Rabbi Zev Leff— were specifically intended to be a cross-seminary event, an opportunity for women learning in various gap year programs, to unite and engage in a meaningful mission.
"It is gratifying to know that our students are playing a part in Yad Eliezer's goal to break the cycle of poverty endured by these underserved individuals," said Marian Stoltz-Loike, Dean of LCW. "By preparing these holiday baskets to help celebrate Purim, these young women exemplify Touro's own commitment to compassion, service to society, and the enrichment of the historic Jewish tradition."
In addition to holiday observances, Yad Eliezer also provides financial and social assistance with lifecycle events (such as weddings and bar mitzvahs), mentoring programs (Big Brothers & Big Sisters) and hunger relief.