Hacking It Together at Third Annual Hackathon
Event Drew Students from 10 Schools in the NY Area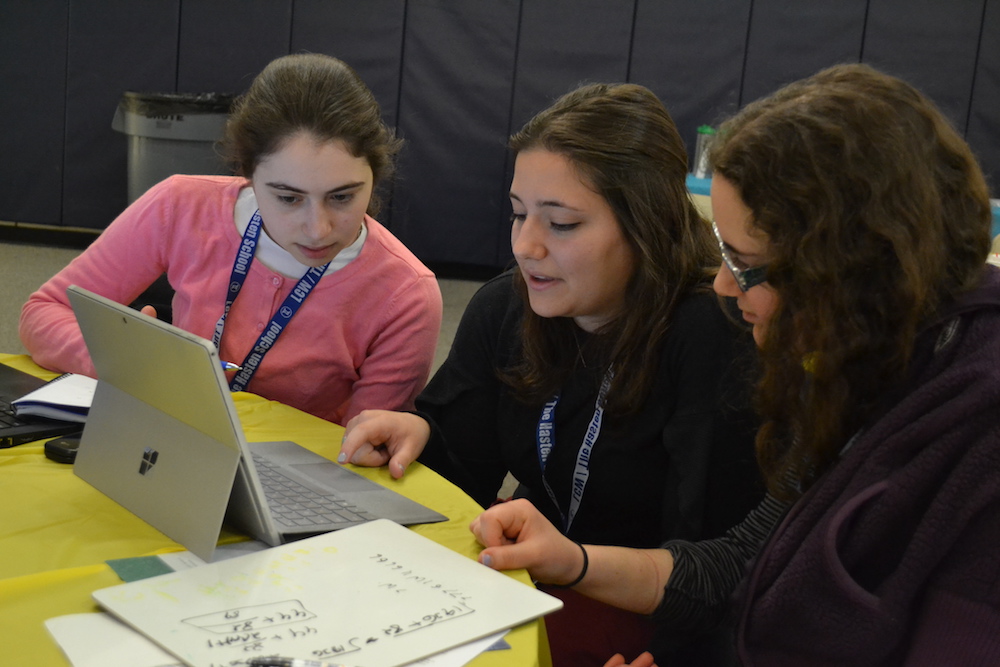 Women from more than 10 schools and universities across New York State joined LCW's third annual Hackathon.
Dozens of women from more than 10 schools across the New York area hacked it together during Lander College for Women (LCW)—The Anne Ruth and Mark Hasten School's third annual Hackathon.
"We wanted female students to get their feet wet and become more confident in their own abilities," stated LCW student Sarah Cohen who directed the Hackathon.
A hackathon is a collaborative computing event where participants work intensely together on a software project. Unlike last year's Hackathon where participants were required to develop a full-fledged software project, at this year's event participants were divided into groups and then given nine problems to solve with each problem increasing in difficulty. The first question asked students to develop an algorithm to find the sum of every number between 2-1000 not including perfect squares, while the last question asked participants to develop a movie recommendation algorithm, a significantly harder task. (The last problem was suggested by one of the sponsors.) First place prize was a $50 Amazon gift cards for each team member; second place were $25 cards.
"We wanted people to come to the event and have to use their own critical thinking skills to answer the problems, instead of re-arranging or redeveloping some code that they did already," Cohen explained.
Participating schools included Hunter College, Brooklyn College, Lander College of Arts and Sciences (LAS), SUNY Purchase, SUNY Ulster, Stern College, high schools Bronx Science, Stuyvesant High School and Midreshet Shalhevet, along with coding schools like Flatiron Academy and New York Code and Design.
"I learned a lot," said Shalhevet junior Avigayl Zucker who attended the event with several of her classmates. "I wasn't so experienced in coding other than the basics, so I gained knowledge about how to use programs."
Shalhevet teacher Aliza Feder, who teaches engineering at the Long Island-based school, said that it was a "great experience" for her students.
"This gave them experience in solving problems in a group and learning skills in coding and problem solving," said Feder.
"The hackathon is a great opportunity for women to work together to find smart solutions to complex technology challenges," stated LCW Dean Marian Stoltz-Loike. "That's why the LCW hackathon attracts so many women from across New York schools. Kudos to Sarah Cohen, assisted by Estee Antellis and Rachel Ellberger and others, for making this great LCW event a success."
Several students mentioned that the fact that the hackathon was only open to women, an unusual occurrence in the male-dominated tech world, drew them to the event.
"This is my first hackathon," said Hunter College student Jasmeet Narang. "The fact that it was women-only is the reason why I came."
The event was supported by Google Ignite CS and Prudential Bank. Financial sponsors included HackHub and AMC Networks. AMC Networks also sent a team of employees to help mentor the students.
"It's a joy and a privilege to see these women coming together and being smart," said BBC America Digital Managing Producer Monica Reyhani. (BBC America is a part of AMC.) BBC America runs an initiative called Galaxy of Women that is committed to promoting women behind and in front of the camera but also works outside of the network. "Any time we can elevate women we're for it," Reyhani said.
Kaitlin Wan, a student at Stuyvesant High School, runs her own hackathons. "It's great," she said about the LCW hackathon. "I get to apply what I know." (She had managed to finish three of the problems by the early afternoon, an impressive feat.)
Dr. Andrew Katz, a professor of computer science at LCW, created several of the problems and was judge of the event. "The Hackathon exposes our students to diversity in the programming world," he explained. "It's exciting and motivating."
Dr. Katz said that several LCW students are aiming to attend a larger hackathon contest in the fall.
LCW student Paige Kohn said that she enjoyed the event and it served two purposes for her. "It helps build a community while allowing us to sharpen our skills," she explained.
Kaila Minkowitz, a freshman at LCW, said that it was refreshing to have a women-only event. At her last position, female employees in the technology department were scarce. "There were literally no other women there," she said.
Touro LAS team "Rumbocolipse" scored the highest with 130 points and won first place. TNH from Stern College for Women and Mocha from SUNY Ulster tied for second and third.