Female Hackers Take Over Touro's Lander College for Women at Fourth Annual Hackathon
Women from more than 20 schools and universities across New York State participate in Hackathon for a day of coding and community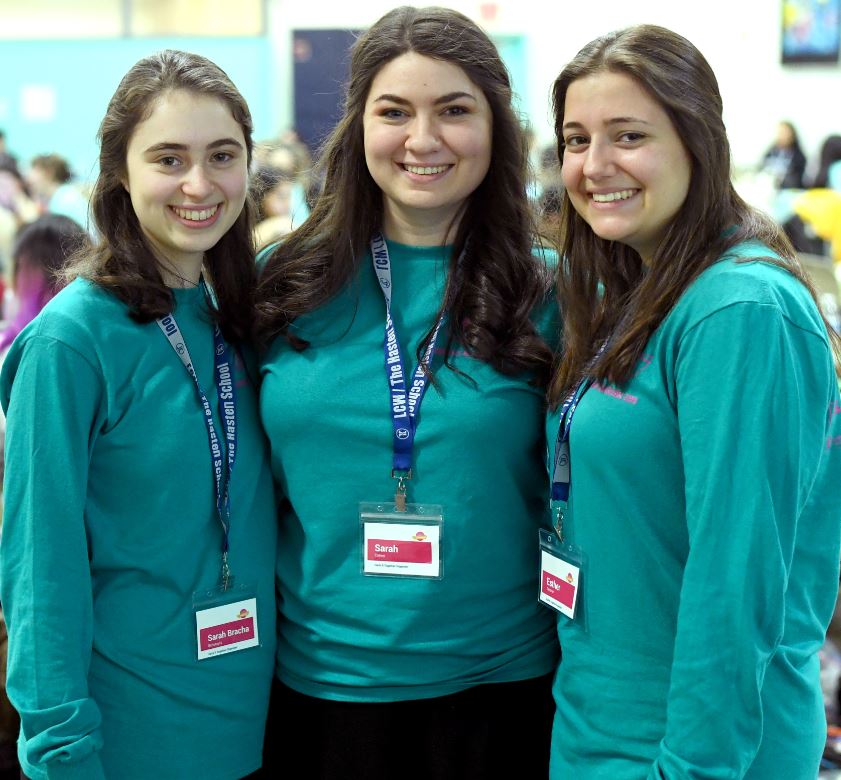 Fueled by pretzels, pizza, and determination, 120 female hackers filled the gymnasium at Touro's Lander College for Women, The Anna Ruth and Mark Hasten School, earlier this month for its fourth annual student-run hackathon, HackItTogether. Hackathons are events where computer programmers collaborate intensively on software projects. Many are multi-day affairs, and most are predominantly attended by men. HackItTogether was started with the support and guidance of Dr. Marian Stoltz-Loike, dean of Touro's Lander College for Women, to create a space for women who share a passion for creating technology to work together in a warm, collaborative environment.
"I have worked closely with our outstanding student leaders who run the hackathon for each of the last four years," said Dean Stoltz-Loike. "And every year it is exciting to walk into our gym and see women working together to create innovative, creative, and strategic technology solutions."
"Our mission is to bring together women studying computer science and provide them with an opportunity to expand their technological horizons," said Junior and co-organizer of HackItTogether, Esther Gassner. "All too often women miss out on these incredibly valuable learning experiences, and recruiters miss out on reaching talented women in computer sciences, because of the 'bro' culture that often permeates hackathons," she continued. Esther, along with Touro students Sarah Bracha Schuraytz and Sarah Cohen organized HackItTogether as an antidote to this problem. They worked together to recruit attendees, solicit sponsors, and ensure a smooth day of hacking for participants.
The 12-hour day had teams working on hacks that would solve a problem or address a need related to entertainment and travel. Sponsors AMC Networks and JetBlue Airways also offered a company-sponsored challenge that participants could choose to do. Hackers had to write all their own code but could ask questions of mentors who circulated the room throughout the day.
Representatives from nearly 40 universities and high schools such as Barnard, Princeton, UPenn, and Bruriah High School for Girls were in attendance, as well as members of organizations like Women Who Code and Girls Develop It. Veronica Forer, a computer science major from Touro's Lander College for Women has participated in many hackathons in the past. "In a room of 300 hackers, usually 290 of the attendees are men" she noted. "I feel supported at HackItTogether. Even if we don't win, I had a good time, got to speak with great mentors, and enjoyed being with all these other women interested in tech," Veronica said. She is set to graduate in 2020 and hopes to secure a position that involves both healthcare and computer science. She and her partner worked on the JetBlue challenge and built an app that recommends movies to watch based on flight duration.
Many other groups also completed the JetBlue challenge, which was to create a product that demonstrates how it is the most caring airline in the world. The winning team was a group from the Flatiron School who created a project called All You Can Give Back. The idea behind this project is to pair volunteering opportunities with travel planning, allowing customers to find volunteer experiences at their destination and gain bonus miles from Jet Blue. Team members received round trip JetBlue airline tickets to any destination in the US for winning the challenge.
Silvia Pan, an engineer from sponsor AMC, was there as a mentor and judge for AMC's challenge project. "I am very often the only woman in the room, so I am excited to be here to encourage more women to go into tech." she said. "I look forward to seeing the new and fresh ideas these students come up with." For the AMC challenge, one student group pitched AMC a social viewing platform for their website to boost user engagement. Users would be able to review shows in real time, write recommendations, and even invite friends to watch upcoming shows together. After the presentation, Silvia's colleague, Yetkin Yuce, invited the students to AMC Headquarters to present their idea to AMC executives and explore internship opportunities within the company.
The day ended with each team presenting a 3-minute demo of its hack. Judging was based on factors such as innovation, usability, problem solving, and technical achievement. The first-place prize was for a project called Boundless, by Esther Sheina Agishtein, Michal Berger, and Lillian Liebman, of Lander College for Women and their teammate, Talya Erblich, of Rutgers University. They created a website that provides an in-flight virtual reality tourism experience for passengers. Using the Boundless website and a Google Cardboard, passengers can enter their flight number and then will be able to select and explore locations in virtual reality as they fly over them.
Dr. Alan Kadish of Teaneck, President of Touro College, who served as one of the judges, along with Dean Stoltz-Loike, noted, "The Hackathon has become an important event at Touro. It was inspiring to listen to the presentations of each group and see how they manipulated technology to create a new way to build community, do business, or enhance travel! Touro College is committed to providing outstanding opportunities for women and helping them achieve their dreams through education."