Experience of a Lifetime: Touro Students Study Bio-Ethics in Thailand
Lander College for Women Student Shanie Sebbag Reflects on Witnessing Cultural Differences in Healthcare, Medicine in Southeast Asia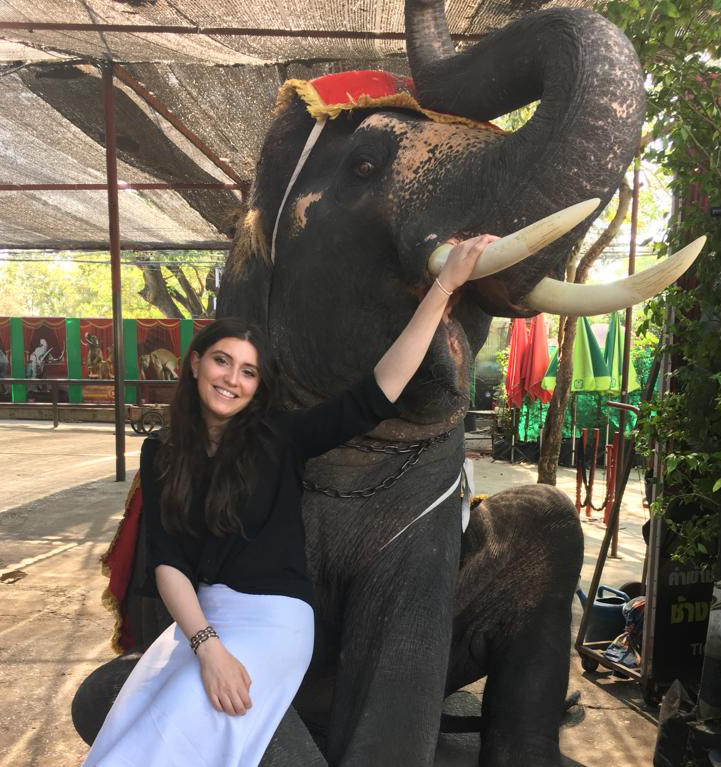 Shanie Sebbag is a premed student at Touro's Lander College for Women. She is hoping for a future career in pediatrics or oncology.
On a remarkable trip to Thailand over mid-winter break, students from Touro's Lander College for Women (LCW), including myself, witnessed firsthand cultural differences in healthcare and medicine. From vaccines produced at a snake farm to a hospital focused on alternative medicine, it was an eye-opening experience. Dr. John Loike, who recently joined the Touro faculty from Columbia University, led our trip of 15 students planning to become doctors, nurses, pharmacists and physician assistants.
Dr. Loike chose Thailand as the destination so that we could observe the stark differences between healthcare in a developing nation and in the United States. This trip was part of Biomedical Cross-cultural Education Program, or BioCEP, an innovative, one-of-kind onsite program offered to Touro students interested in learning about cross-cultural ethics.
Healthcare in Bangkok was nothing like we imagined. We experienced differences in everything from hospital protocols to infrastructure and ethical views. Even the lifestyles between our two cultures couldn't be more different.
Medical Ethics in Unexpected Places
One of the most memorable excursions was our visit to an HIV hospice. Some of the patients were only 12-years-old and many had contracted HIV due to unsanitary practices in poverty-stricken areas of Thailand. They lived in gender-separated rooms that each held about 15 beds. Incredibly, although many of the patients at the hospice had lost their mobility and were unsupported by loved ones, they still had their optimism and spirit. One woman who was wheelchair-bound as a result of her disease, was the happiest person we encountered. She told us, "Everyone dies; it could be by car, or an unknown disease, but I know that I have HIV and I choose to live with it every day. I can either waste it feeling sorry for myself or understand that G-d has a plan...so every morning I choose to live my best life and be as happy as I can be."
It became clear that while the excursion was meant to explore medical ethics, it also demonstrated a marvelous lesson about the human spirit.
We also visited a snake farm that produces anti-venom vaccines from deadly king cobrasand vipers. That visit led to a long conversation about the ethical ramifications of not vaccinating children. This is one instance where scientific and theological points of view align; both assert that it is important to use vaccines to protect children from disease and to avoid spreading disease to others.
Learning New Ideas and Broadening Our World View
Almost every night there were lectures from renowned speakers, doctors and professors. Dr. Phaikyeong Cheah, a professor at Oxford University, led a discussion on the ethics of data sharing. She described the benefits and challenges that come with distributing data to researchers. Patients, or customers using commercial DNA testing, may unwittingly turn over extremely personal data such as medical, bank account and family information.
Dr. Loike gave a fascinating lecture on mitochondrial replacement therapy and its ethicalimplications on defining parenthood, according to halacha. He talked about both science and theology. He outlined the Torah's definition of motherhood, as well as the issues that arise when considering surrogacy or adoption.
Medical Tourism in Foreign Hospitals—Safety and Ethical Issues Abound
This aspect of the trip focused on medical tourism, a popular industry, but one which raises safety and ethical issues. Last year, more than 1.4 million Americans traveled out of the country for medical procedures.
We visited three hospitals that served medical tourists, each focusing on different areas of medicine. At the Jubilee Medical Center, known for its alternative method of medicine, we learned about forms of treatment whose scientific basis remain a mystery. The doctors at Jubilee practice homeopathic, traditional, Chinese, and Thai medicine, and other forms of alternative healing using a holistic approach. Some of us even experienced a number of the hospital's services include massages, herbal compression, acupuncture and reflexology.
At Bangkok Hospital, patients from all over Asia, Europe and the U.S. stay in private luxury accommodations receiving topflight care from staff and treatment with state-of-the-art technology. This visit gave us an opportunity to explore the ethics of medical tourism, which is popular in Thailand, thanks to the low cost of procedures.
At Yanhee International Hospital we saw firsthand the largest reason for medical tourism: cosmetic surgery. A sizeable percentage of the hospital's patients come for facial or figure reconstructive surgery. Yanhee prides itself on being a "destination for beauty," which sparked a conversation about the ethics of travelling abroad for cosmetic surgery.
Bariatric and cosmetic surgeries overseas are not regulated in the same way as they are in the U.S. and patients and doctors do not have access to the same supplies and safeguards. While bariatric therapy is not approved in the U.S. for children with Asperber's syndrome or Cerebral Palsy, it is used, allegedly with success, at Yanhee for these conditions.
Beyond the safety of the traveling patients, the effects of medical tourism are felt most strongly by the poor populations living in developing countries whose healthcare systems are focused mainly on wealthier tourists. A brain drain is created in these countries, whereby the best doctors are not serving the local public, but instead treating affluent foreigners.
To compensate for the lack of medical resources directed to the general, local population, Yanhee does make efforts to serve the underprivileged by offering medical services at a reduced rate. In addition, once a year, Yanhee performs 100 surgeries, at no cost, to children in the community afflicted with cleft palate.
This trip was a hands-on laboratory experience in bioethics. The knowledge gained from this visit will be invaluable to us as future healthcare professionals, allowing us to evaluate ethically questionable scenarios and be aware of the ramifications that can occur from medical decisions.
Additionally, I gained an understanding of cultures beyond my own and a newfound appreciation for Judaism and our Torah structure that provides us with the ethical guidelines to make all personal and professional decisions. Seeing what happens when societies are motivated by financial gain rather than just medical service to citizens or a moral imperative, made me truly appreciate the blessings of Torah-true Judaism and redouble my commitment to treat my future patients with the highest ethical standards.