Code. Compete. Network. 6th All Female Hackathon a Success
Students from Two Dozen Colleges Hack It Together at Lander College for Women in Annual Women's Programming Competition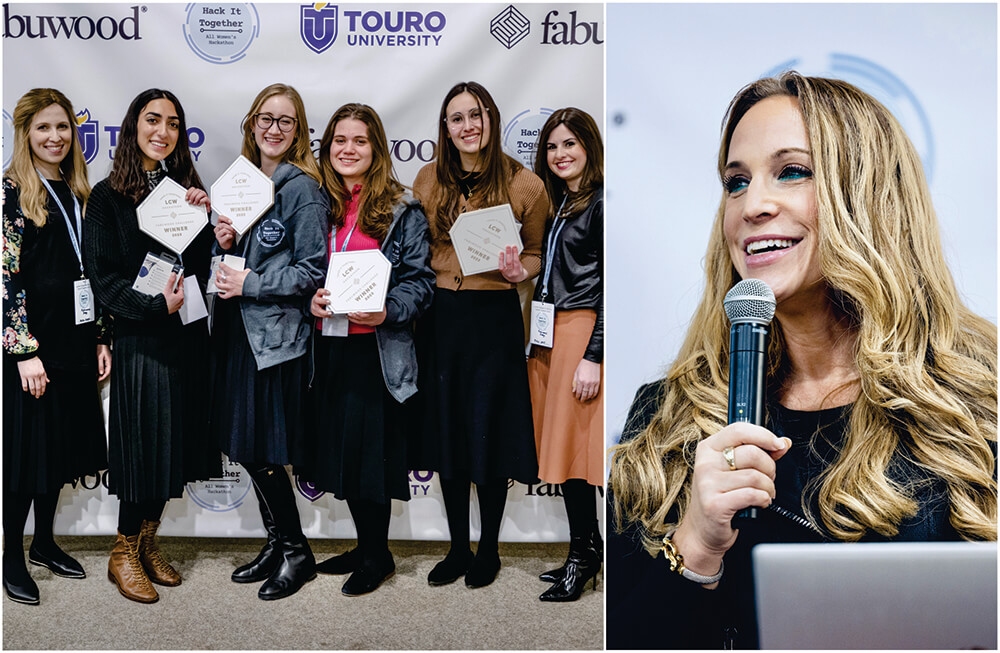 (Left to right) Team of Touro students who won the Fabuwood Challenge; Keynote Speaker Shira Rubinoff, a cybersecurity executive and blockchain advisory
More than 100 students from 24 colleges in New York and New Jersey gathered at Touro's Lander College for Women/The Anna Ruth and Mark Hasten School (LCW) last month for the College's annual all female Hackathon. Over the course of 12 hours, the students collaborated with teammates in a competition to solve real-world problems faced by companies and organizations of all sizes by utilizing coding and creative programming skills.
Teams of three to five students sat at tables inside the gymnasium and developed unique methods to find the best solution to one of two challenges provided by the Hackathon organizers.
When she addressed the exhausted but smiling participants late in the day, Dr. Marian Stoltz-Loike, Dean of Touro's Lander College for Women and VP for Online Education at Touro University, underscored how effectively the women collaborated at the Hackathon.
"It comes naturally to us, the idea of being a team, and joining together with people who we've never met before and creating something amazing. That's what you've all done today," she said.
Female Tech Executives Offered Career Insight and Mentoring
The students worked throughout the day, with breaks built in, during which several dynamic women who have succeeded in the tech world—including Keynote Speaker Shira Rubinoff, a cybersecurity executive—shared opportunities and challenges the participants may encounter if they pursue careers in the technology sector. Mentors were available to offer guidance to individuals and teams, and projects were presented to the judges in the evening. The organizers also built in dedicated times for students to network with the various speakers, judges and mentors.
Organizer Chana Chambre, who won the 2019 Hackathon with Rina Glasser while they were both in high school, said that the Hackathon is useful to students interested in a career in computer science, "where there isn't really a guidebook or a manual or one way to do it."
"It's not like medicine, where you have a very set path. It's sort of do it yourself," Chambre said. "And I like being able to help people, tell them what worked for me and let them see what works for them, because that's how you figure out your own niche in the field."
Glasser, who will graduate in May with a degree in Judaic Studies and is minoring in computer science, noted the constant hum of activity in the gymnasium during the 12-hour day.
"Everyone was working hard, everyone was coding, and when you walked around, everyone's laptops were open," she said.
A team from the Stevens Institute of Technology won first place in the competition. The main sponsors of the event were Fabuwood and 400 Capital Management. Fabuwood also provided one of the two Hackathon challenges which was won by a team of Touro students.