Alum Spotlight: Hannah Lebovits
An Academic Discovers the Power of Public Service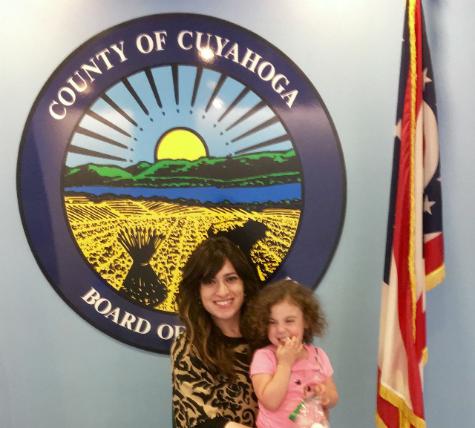 Hannah Lebovits, MPA is a candidate for city council at-large in University Heights, Ohio and an alumna of Touro's Lander College for Women (LCW).
Hannah earned a Bachelor of Arts degree in Political Science, went on to earn a Master of Public Administration degree from Cleveland State University (CSU) and is now an urban public policy PhD student at CSU where she studies local government structure and democratic service-learning. She got her start in local government as an aide for a New York City Councilwoman while she was still an undergrad. Since "discovering" the incredible power of local government, Hannah has dedicated her career to good governance and creating public value. When she's not fighting for social justice reform, Hannah can be found in her backyard with her husband and two children.
When did you know you were interested in politics? Was there one "aha" moment in your youth that you can point to?
I never thought I would go into politics. In fact, only a few months before I announced my candidacy, a friend asked me if I would ever run and I assured her that it was not an interest of mine. I am an academic, a researcher, an activist- not a politician. But when you spend all day with data, it becomes difficult to ignore the glaring inconsistencies between community needs and the public policies designed to resolve those issues. And one day, I burst. I started to discuss my concerns about trends in crime, housing, economic development and public health at my dinner table. I talked with other moms at the park about the wild costs of childcare and health insurance. I even debated progressive taxation policy with my little one. [Pro-tip: irrational and strong-minded toddlers can be the best mock-debate opponents] I enjoyed sharing my ideas but I felt that they were always going to linger at the grassroots level if I didn't put in the time to push them further. So I decided to run for local office.
Did your education at Touro help shape your career path? In what ways?
When I came to LCW, I thought I wanted to be a family court lawyer. In fact, I was so sure that I was going to practice law that I believed I didn't need to waste my time in political science classes. I confidently told Dr. Luchins that a shorter degree program suited my needs and that I had no qualms about the LSAT. Dr. Luchins successfully convinced me to change my major. Of course, it was only after I signed up for my new classes that I heard that the old "poli sci switch" trick is a part of his basic MO. The move to pursue a degree that aligned with my own interests created opportunities that I could not have gained in any other degree program. I interned for a Councilwoman who later became the Manhattan Borough President, I learned to think about public service and democracy in more scholarly ways and, most importantly, I met new friends that continue to inspire and encourage me.
Was there a particular class or professor that encouraged this interest? Explain.
Oh yes, definitely. Dr. Ross Zucker, an incredible professor in the political science department. I took one of Dr. Zucker's classes during my first semester and it was he who recommended that I look into pursuing an internship with the New York City Council. Professor Zucker's classes opened my eyes to the world of democratic thinking and political structure. And, to this day, he is still the only person that I know who simultaneously embraces the ideas of his students while challenging them to think more deeply. He's an gem and a professor that I hope to emulate one day.
How do you balance your personal and professional lives?
You can do everything you want to do--have a family, a career, an education and a fulfilling community life. But you can't have everything at the same time. There will be days when you don't spend as much time with your kids as you'd like, there will be times that you miss social events and there will likely be many nights that you go to sleep with piles of dishes in the sink. It's about making the most of each opportunity while staying truthful to yourself. Identify the top three priorities in your personal and professional lives and find ways to enrich them--individually and collectively. And don't be afraid to decline incredible opportunities because they infringe on the things you believe to be the most significant. There will always be more opportunities to succeed, to connect and to empower. Take each chance when the time is right.
What advice do you have for young women interested in pursuing politics as a career?
I have two pieces of advice. One, there is no definitive way to be the ideal "female politician." Forget about trying to please everyone. Create strong personal and professional boundaries and stick to them. You need to do what you feel most comfortable doing and make sure that you have a good friend that can keep you in check. Secondly, a career in politics is not all or nothing. Just because you don't win or you don't change the political landscape doesn't mean you weren't successful. The world needs new ideas and passionate people. Keep fighting the good fight, no matter what happens at the polls.