Touro's Lander Colleges Launch Finance Alumni Network
Dozens of Alums and Students Gather to Gain Career Advice and Make Professional Connections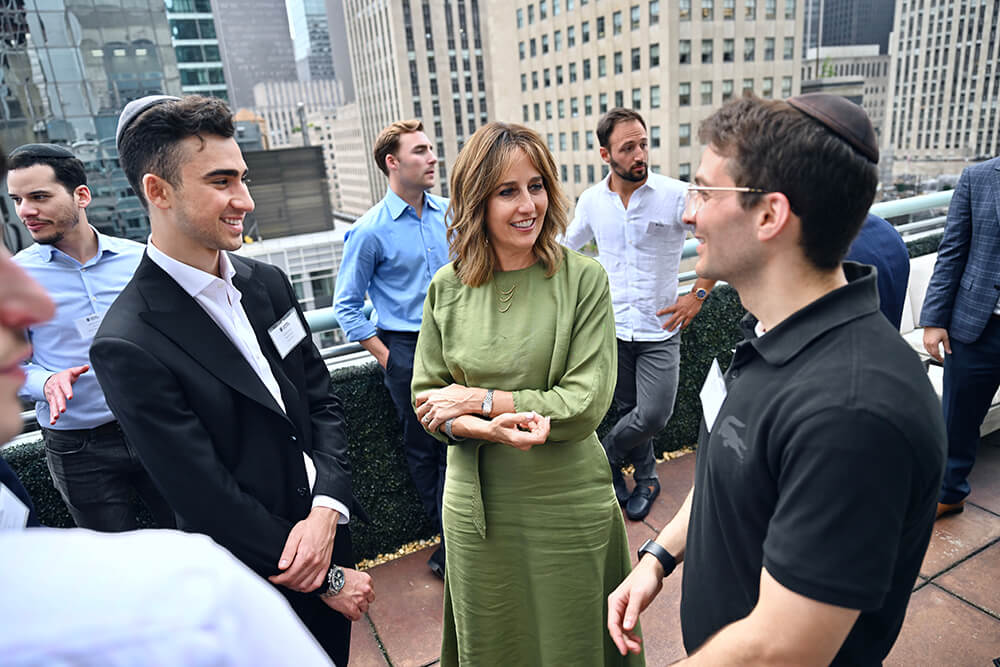 Touro parent Audrey Weitz (center), managing director at Old City Investment Partners, and Touro alum Jason Appleson (right), managing director and head of municipal bonds at Prudential at the Lander Alumni Networking event they organized.
The Lander College Finance Alumni Network launched last month with dozens of Touro alumni gathering on a Manhattan rooftop to shmooz, enjoy sushi and most importantly, make professional connections.
The event took place at the penthouse office of Audrey Weitz, Managing Director at Old City Investment Partners in midtown Manhattan, and a mother of two Touro University students. As the driving force behind the network, Weitz sought to model the new organization after alumni organizations of top-tier public and private universities, having seen the tremendous impact of those groups and also to create opportunities for students and alumni alike. Lander College for Men (LCM) alumnus Jason Appleson, Managing Director and Head of Municipal Bonds at Prudential, and Jodi Smolen, LCM's Director of Career Services, teamed up with Weitz to help jump-start the process.
"I was planning to say that tonight we are launching something, and 20 years from now it will be an amazing institution and resource for the university and the graduates," Weitz said. "But we're already seeing major success, with so many people showing up on a random Wednesday."
Camaraderie and Career Advice
Billed as an evening to expand professional networks, learn from other alumni in the business world and help rising undergraduate finance students, Appleson got the ball rolling by offering some advice to the attendees. One tip, he said, was that it's important to move out of your comfort zone and take on new responsibilities, even when you don't feel ready. He urged the group not to shy away from risks, whether in the form of new roles, new projects, new paths or new opportunities.
"I joined Prudential, and they said, 'We want you to do an interview on TV.' And I said, 'Whoa, on TV? That's crazy,'" Appleson said. "But you do it. You say, 'OK, I know it will be difficult, I'll prepare, and the worst that can happen is you look like an idiot.' And I may have a few times. But these are things you can overcome."
Addressing those just starting out, Appleson said that people often have a career plan in their minds, but they should understand that it might not play out that way, which is just fine.
"You will find that often your career does not match exactly the path that you had laid out for yourself," he said. "As a six-year-old, I did not say, 'I want to be a municipal bond portfolio manager.' That's not what I had in mind. But I took this path, and I got here, and I'm very happy with where I ended up."
Alumni attendee Yehuda Sokel, CFA, Head of Treasury and Investor Relations at Sterling, echoed Appleson's sentiments. "Missed opportunities can sometimes be the greatest blessing," he said. "The 'dream' job or promotion that didn't materialize can often open the door to an even better opportunity. Just ask Warren Buffet… a Harvard Business School rejection led to attending Columbia instead, where he met his mentor Ben Graham and shaped his investing philosophy. This point hits home to me as well, as I've experienced significant career disappointments which ultimately paved fruitful paths that I wouldn't have otherwise discovered."
Supporting Current Students
Smolen said that beyond making professional connections with each other, the new alumni network is also intended to help current students find opportunities and excel in the business world.
"In addition to our formal mentoring program, if I have a student who wants to know what it's like to be in Fintech, I'll call up someone who works in Fintech and say 'Can you talk to a student for just a few minutes?'" she said. "That's a one-time thing, and if they hit it off and then want to follow up, great. If not, they got the information they needed and they can continue and make a decision where they want to go and spend their time." To that end, Smolen said that she will be reaching out to the attendees if she knows of current students who could use their advice.
"Additionally, alumni will find ways to pay it forward to current finance students by coming back to campus, getting involved in alumni events and by connecting recruiters from their firms to entry-level talent from Touro," continued Smolen.
Alumni attendees currently work in finance roles at UBS, Morgan Stanley, JP Morgan, Deutsche Bank, Deloitte, AIG and other top firms.
Chana Rubel, who graduated from the Lander College of Arts & Sciences in 2002 and is an Associate Director at Protiviti, a business consulting firm, said the opportunity to meet so many impressive individuals from successful companies was invaluable.
"For me personally, it's very important, because when I go to my office and I say these are my contacts, it's going to bode well for me in my career, as everyone is trying to get that next potential opportunity," she said. "Coming to an event like this, with people of this caliber and these companies that are so important and to have this visibility, this is priceless."
"You couldn't pay money to come and speak to half these people."