Aliza Meissner Named 2015 Valedictorian of Lander College for Women
Date: June 01, 2015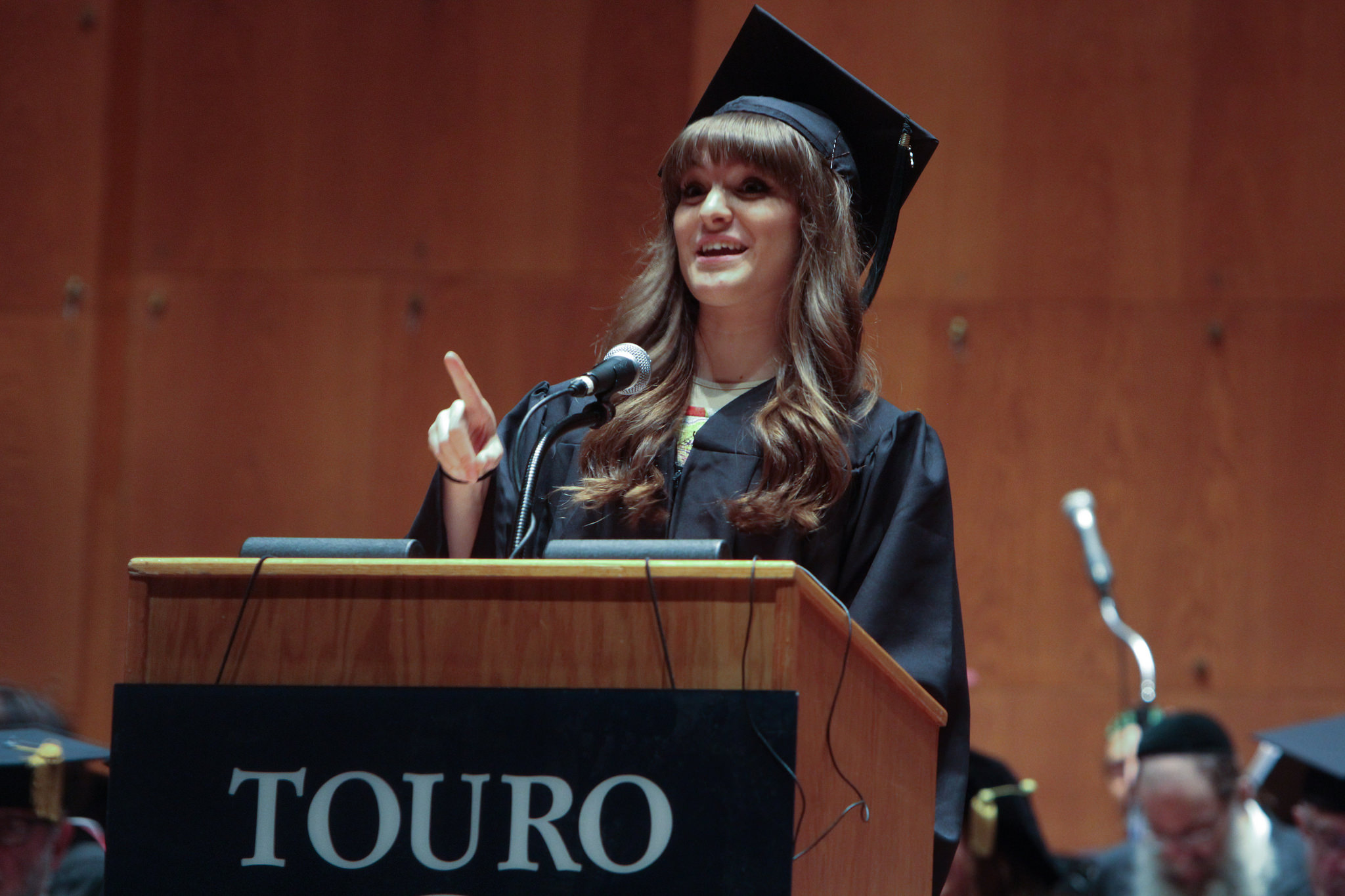 Aliza Meissner, LCW Valedictorian, Class of 2015
New York, N.Y., June 1, 2015 – It's surprising, given her myriad interests and hobbies, that Aliza Meissner includes chemistry on her list of enjoyable activities. After all, this is someone who has scaled the Rockies, spiked a volleyball with reckless abandon and dared the sharks while riding a surfboard off the California coast. And yet…
"I love chemistry. I think it's fun in a completely non-geeky way," she says. "I don't know why I don't excel at cooking the same way I do in chemistry. I guess I just like to know how things work."
Aliza was named the 2015 valedictorian of Lander College for Women-The Anna Ruth and Mark Hasten School (LCW), and served as a student speaker at the 41st commencement exercises of the Lander Colleges yesterday. Among her achievements, Aliza graduated summa cum laude; made dean's list each semester; and was selected for the 2015 "Who's Who Among Students in American Universities and Colleges." She's also particularly active in student life as a member of the school's Pre-Med Club, the Volleyball Club and student government, and is president of the Biology Club. At commencement she will be presented with the Dean Sara Freifeld Humanities Award.
"Aliza is an exceptional young woman, poised, intelligent, passionate and compassionate," said Marian Stoltz-Loike, Ph.D., dean of LCW and Touro's vice president of online education.
Whether academic or less serious, Aliza's interests suited her well at LCW.
"I loved it. It's a really good balance between learning and the special group of students who come here," she said. "From the deans to the faculty and staff, they cater to the students and want them to have the best educational opportunities and succeed."
Pre-med and a biology major, Aliza particularly appreciated her faculty advisor and the chair of the Department of Chemistry and Physics, Dr. Tova Werblowsky, for "pushing us to reach our full potential."
The oldest of five children, Aliza graduated from the Bais Yaakov of Montreal high school—also as valedictorian—before spending a year studying at the Machon Raaya seminary in Jerusalem. After commencement Aliza will return to Montreal to teach chemistry and math at her former high school, and develop an advanced science and math curriculum. She plans to attend medical school in 2016 and hopes to specialize in pediatrics.
"Probably because I'm a child at heart," she mused.
The Lander College for Women is an undergraduate division of Touro, a student-centered college located in midtown Manhattan where Jewish women follow a rigorous academic program as they pursue their baccalaureate degrees, while continuing and deepening their Torah education and commitment. For more information on the Lander College for Women, please go to http://lcw.touro.edu.
About the Touro College and University System
Touro is a system of non-profit institutions of higher and professional education. Touro College was chartered in 1970 primarily to enrich the Jewish heritage, and to serve the larger American and global community. Approximately 19,000 students are currently enrolled in its various schools and divisions. Touro College has branch campuses, locations and instructional sites in the New York area, as well as branch campuses and programs in Berlin, Jerusalem, Moscow, Paris and Florida. New York Medical College, Touro University California and its Nevada branch campus, as well as Touro University Worldwide and its Touro College Los Angeles division are separately accredited institutions within the Touro College and University System. For further information on Touro College, please go to: http://www.touro.edu/news/.